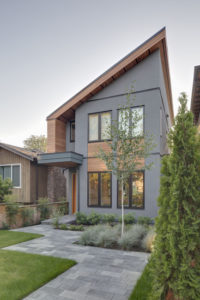 3 Bedrooms + Den
3 Full Baths
2 Linear Fireplaces
Steel Stringer
Open Maple Treads
Seamless Glass Railings
Out-of-box thinking produced this contemporary-looking home that fits beautifully into streetscape.
Clever-planning and building innovation resulted in 2000sq.ft. home, with single-detached garage on 2800sq.ft lot
Strong-sloped roof line, cedar and stucco exterior finishes, inviting entry-door integrate successfully into desirable established neighbourhood.
Appeals to couples/families who are intrigued by unique, cutting-edge architecture.
Looking to build or renovate in the Greater Vancouver area?
We want to hear about your project.